Manufacturers and builders of quality static wooden stables, permanent stable blocks, mobile shelters, mobile field shelters, american barns, tack rooms, pony boxes, foaling boxes, corner boxes, hay barns, loose boxes, equestrian buildings, stores and associated timber buildings for over twenty-five years.
Stables and ancillary buildings are normally erected on a concrete slab with a single course of semi engineering bricks for all of the new walls to sit upon.
Whilst it may not be possible or desirable to lay a perfectly flat concrete slab, the brickwork can be adjusted to offer the ideal, accurate, and level base for the building.
Concrete base construction
When working on a 'green field' site of undisturbed ground, not backfilled:–  Scrape off surface vegetation, dig into ground to lay 100 – 150mm of compacted hardcore. Then pour a minimum of 100mm of concrete. It is not considered necessary to add reinforcement in this construction. Concrete can, if you wish have a slight fall to the front or rear, say 12mm over 3.6 meters (1/2″ over 12′ 0″) and should be tamped from front to back to encourage any drainage in that direction. When laying bricks leave half brick gaps for any fluids to drain out of stables. It is important that the brick course is laid level and square. Check across the diagonals of the largest area of brickwork possible, when perfectly square the diagonal dimensions will be the same. Any front concrete forecourt or pathway must fall away from the buildings slightly to avoid ponding or during heavy rain, water running back towards buildings. It is not considered practical to build drains or gulleys within the building footprint, or to use a damp proof course on top of the brickwork. A bitumen paint on top of the bricks can be applied to eliminate the possibility of any rising damp, which at best is minimal. To control water away from the edge of the concrete base, a trench filled with pea-shingle and a perforated land drain works very well at little cost. The above is meant as a practical guide to help customers construct bases themselves. Larger bases are normally undertaken by contractors who may choose to consult ourselves to check any details. Conditions may well require a higher specification base, check with a reputable contractor. A full dimensional brick base plan is sent to all customers upon receipt of order/deposit.
Typical Brick Base Plan for block of three stables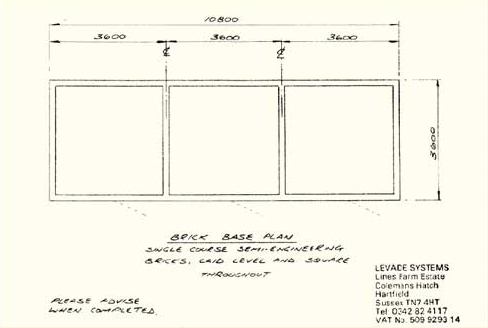 Finally, when bricks are completed don't be suprised if your stables or barns look smaller than you had hoped – I guarantee that when buildings are erected that the size magically increases – honest!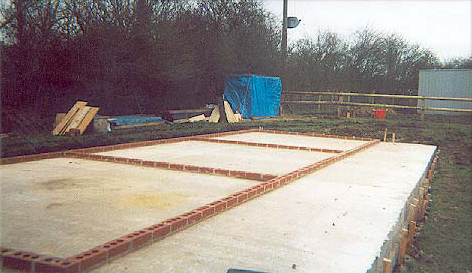 A well finished concrete slab with the single layer of bricks for panels to sit on. A simple plan showing the brick layout is sent to you but it's up to you to lay them level and square!
Base Contractors
Some experienced, reliable base contractors we are confident in recommending to you, for work in Sussex, Surrey and Kent.
JB ARENAS

All weather arenas and some larger bases and roadways.
Contact Jim Boyce 01273 844007; Mobile 07860 206269
Website:
www.jbarenas.co.uk
EQUESTRIAN & COMMERCIAL REPAIRS
Bases and all things equestrian that need fixing! New construction too.
Contact Roger   07776 311041
roger@equestrianrepairs.co.uk
PLEASE NOTE
We accept no responsibility whatsoever for any referrals or suggestions made regarding base construction. It is the responsibility of the customer to seek professional advice or engage a suitable contractor who specialises in groundworks. Any information we give is offered in good faith. Ground conditions vary and there is no one acceptable construction suited for all contracts.